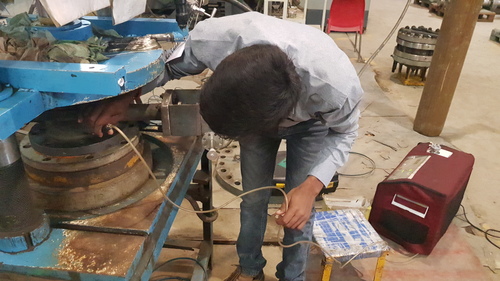 Helium Leak Detection Services
Service Description
Leak testing is implemented for the detection of leaks and ascertain the penetration rate of the fluid i.e. gas or a liquid will pass through the inside of a tight assembly or component to the outside or vice versa. Owing to this action, the pressure level of the two regions differentiate or barrier is somewhat extended of permeation. It has become typical to use the term "leak" to mention an actual passage or discontinuity through which a fluid permeates or flows. Fluid which has flown through the leak is referred as "Leakage". "Leak rate" means the rate of fluid flow under a given set of conditions per unit of time, and is properly expressed in units of mss/ unit of time. Standard leak rate implies the flow rate of atmospheric air under conditions in which outlet pressure is less than 1 Kpa; inlet pressure is 0.1 Mpa ±5%; dew point is less than -298K and temperature is 298K±5.
The term "minimum detectable leak" refers to the discrete passage or smallest hole which can be traced and "minimum detectable leak rate" implies the tiniest traceable fluid flow rate. Determination of the amount of leakage needed for a leak testing instrument to produce a minimum detectable signal can be done. This minimal detectable signal is typically utilized to denote the instrument sensitivity. Sensitivity of the instrument is not dependent on the test conditions, but when an instrument is under a test, the sensitivity relies on the prevailing conditions of temperature, pressure and fluid.
Product details
| | |
| --- | --- |
| Methodology | Sniffer Method, Tracer Probe Method |
| Testing Type | Pressure Testing |
| Sampling Procedure | Customer Place |
| Application Type | Petrochemical, Power Plant, Valves, Chemicals |
| Product Type | Hydraulic Lines |
| Vacuum Type | Pressure Vacuum |
Contact Us
Correspondence Address : F 22-23, Site C, Surajpur Industrial Area, UPSIDC, Greater Noida, Uttar Pradesh, 201308, India
Phone :+918037304129