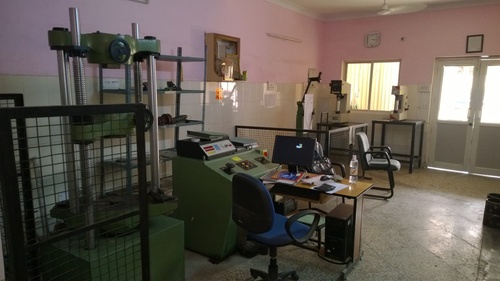 Impact Testing Services
Service Description
Impact Testing Services
Impact Tests are done to determine the notch toughness of the material. Toughness is a ability of a material to absorb the energy. It is generally defined by the area under a stress-strain curve for a unnotched tension sample, which is loaded slowly to the fracture. Notch toughness represents the ability of a material to absorb energy usually determined under impact loading in the presence of a notch. Impact Testing is used to Notch toughness is measured by using a variety of specimens such as the Charpy V-notch impact specimen, the dynamic-tear specimen, and plane-strain fracture-toughness specimens under static loading and under impact loading.
Traditionally, the notch-toughness characteristics of low & intermediate-strength steels have been described in terms of the transition from ductile to brittle behavior as test temperature increases. Most structural steels can fail in either a ductile or a brittle manner depending on several conditions such as temperature, loading rate, and constraint. The most widely used specimen for characterizing the ductile-to-brittle transition behavior of steels has been the Charpy V-notch impact specimen and Izod V notch impact specimen. The impact testing services can be tested at the different temperatures. At each test, the impact notch toughness can be defined from the energy absorbed during the fracture. It can be defined by the change in the width of the sample (lateral expansion) or the percent shear (fibrous) fracture on the suface of fracture.
Both the equirements and descriptions of bend test are given in several other standards such as, IS 1757, ASTM A 370, ASME Section IX, IS 2062, IS 1598, AWS D1.1, etc.
Contact Us
Correspondence Address : F 22-23, Site C, Surajpur Industrial Area, UPSIDC, Greater Noida, Uttar Pradesh, 201308, India
Phone :+918037304129