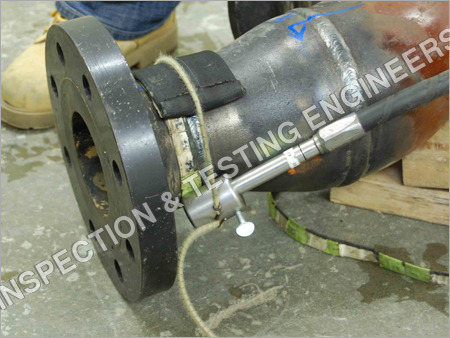 Radiographic Testing Courses
Service Description
Radiographic Testing Courses

Radiographic Testing Courses
also known as
industrial radiography training
, is a
nondestructive testing (NDT)
method of
inspecting materials
for defects by utilizing the ability of high energy photons (short wavelength electromagnetic radiation) to penetrate different materials. Either a
radioactive source
(Co-60 or Ir-192) or an X-ray machine can be used as photons source to complete the process. As the radiation amount coming out from the material's opposite side can be measured and detected, the difference between in this intensity (amount) of radiation is used to find out the availability of discontinuities or defects in the material. Radiations that penetrate are restricted to that part of the wavelength electromagnetic spectrum which is less than around 10 nanometres.
Radiographic Testing Courses
purpose is to demonstrate the nature and existence of flaws or other related structural discontinuities in the inner body of the materials under testing. Radiography utilizes the ability of short wavelength electromagnetic radiations, like Gamma ray or X-ray, to penetrate objects. In general, the penetration power is inversely proportionate to the size of wavelength.
Some of the radiation passing inside the material is absorbed in the material itself. The amount of absorption is a function of the thickness, density and material's atomic number. Should there be any discontinuity or cavity in the inner structure of the material, the radiation beam will have less material to penetrate than in completely solid and flawless material. Also, there will be an absorption variation in the rays if the material area is defective. The measured and recorded variation on a Gamma ray or X ray sensitive film, generates an image which will show the presence of the flaw. The image is an Gamma ray or X-ray shadow of the inner structure of the material. Thus, radiography is primarily based on the shadow projection principle and hence the shadow picture is called a Radiograph. To provide detailed information, variations in the darkness of the shadow may be interpreted. The basic setup typically consists of a radiation source, a detector (generally a photographic film sheet) and the object to be radiographed.
Advantages
Best NDT method forvolumetric discontinuities detection.
Precise location of the Internal flaws.
Radiographs/Records could be stored forever.
Product details
| | |
| --- | --- |
| Service Mode | Offline |
| Test Location | Laboratory |
| Process Type | Engineering |
| Test Type | Continuous Test |
| Application / Industry | Industrial |
| Application | Manufacturer |
| Testing Type | Broken Wires / Connections |
| Testimonials Format | Hardcopy |
| Testing Result Duration | 2 to 6 Hours |
Contact Us
Correspondence Address : F 22-23, Site C, Surajpur Industrial Area, UPSIDC, Greater Noida, Uttar Pradesh, 201308, India
Phone :+918037304129