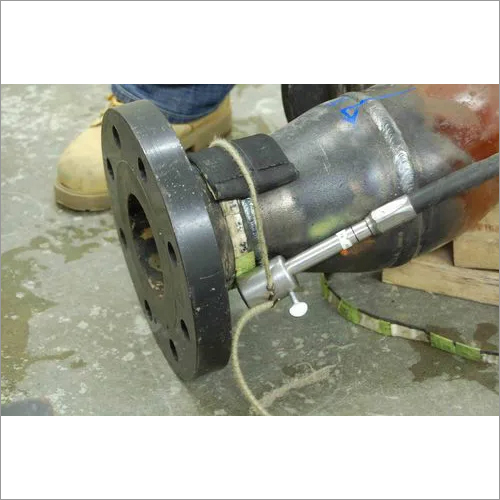 Radiography Testing
Service Description
Radiographic Testing (RT), orindustrial radiography, is a nondestructive testing (NDT) method of inspectingmaterials for hidden flaws by using the ability of short wavelengthelectromagnetic radiation (high energy photons) to penetrate various materials.
Either an X-ray machine or aradioactive source (Ir-192 or Co-60) can be used as a source of photons.
Since the amount of radiationemerging from the opposite side of the material can be detected and measured,variations in this amount (or intensity) of radiation are used to determine theavailability of flaws or discontinuities in the material. Penetratingradiations are those restricted to that part of the electromagnetic spectrum ofwavelength less than about 10 nanometres.
The purpose of RadiographyTesting is to show the presence and nature of defects or other structuraldiscontinuities in the interior of the materials under examination. Radiographymakes the use of the ability of short wavelength electromagnetic radiations,such as X-ray or Gamma ray, to penetrate objects. In general, the shorter thewavelength, greater the penetrating power. The radiation that enters throughthe material, some being absorbed in the material itself and amount ofabsorption is a function of the density, thickness and atomic number of thematerial. Should there be any cavity or discontinuity in the interior of thematerial, the beam of radiation will have less material to pass through than insolid material. Consequently there will be a variation in the absorption of therays by the material in the defective area. The variation, if measured orrecorded on a film sensitive to X-ray or Gamma ray, produces an image that willindicate the presence of the defect. The image is an X-ray or Gamma ray shadowof the interior of the material. Thus, radiography is essentially based on theprinciple of shadow projection and such a shadow picture is called aRadiograph. Variations in the darkness may be interpreted to provideinformation concerning the internal structure of the material. The basic setupessentially consists of a source of radiation, the object to be radiographedand a detector which is normally a sheet of photographic film.
Advantages
1.Best NDT method for detection of volumetric discontinuities.
2.Internal flaws could be precisely located.
3. Records/Radiographs could bestored forever.
Contact Us
Correspondence Address : F 22-23, Site C, Surajpur Industrial Area, UPSIDC, Greater Noida, Uttar Pradesh, 201308, India
Phone :+918037304129