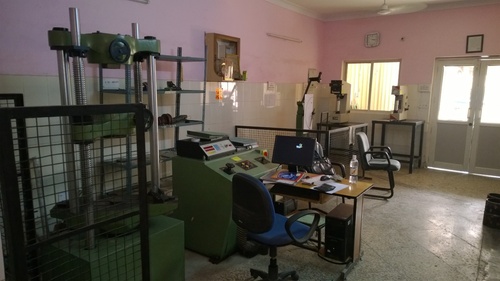 Tensile Testing Services
Service Description
Tensile Testing Services
ITE's Destructive Testing Lab Division which has been accredited by National Accreditation Board for Testing and Calibration Laboratories (NABL) as per ISO 17025 in the field of Chemical & Mechanical Testing of Metals. This is the highest accreditation granted to laboratories working in the domain of Material Testing and Calibration services.

We have the world class computer operated UTM that helps us to carry out the tensile testing. It enables us to obtain accurate and the best possible results. Through the tensile test, some of the main characteristics of the materials obtained are: Yield Stress/Strength, Modulus of Elasticity, Ultimate Tensile Strength, Elastic Limit and Percentage Elongation.

The tensile strength testing is the value, which is generally quoted from the results of a tension test. With regard to the metal strength, tensile strength testing is the value of little importance. The tensile strength is regarded as a measure of the maximum load for ductile metals. A load that a metal can resist under the even most restrictive conditions of uniaxial loading. This value carries little relation to the useful strength of the metal in the most complicated conditions of stress, which are generally encountered. For several years, it was

For many years, it was usual to determine the strength of members in accordance to the tensile strength. But the contemporary trend is to adopt the most practical approach of basing the static design of ductile metals in accordance to the yield strength. Nevertheless, it is due to the long pattern of using the tensile testing services to specify the strengh of materials, it has become very popular method to identify the materials in the same manner that the chemical composition serves to specify the alloy or metal. Moreover, the tensile sttength is very simple and also a reproducible property. It is very useful for the purposes of qualtiy control and specifications of a product. Plus, the extensive empirical correlations between the properties and tensile strength like fatique strength and hardnes are often very useful.

Mechanical and Chemical Testing division is providing services to customers all across the country including the states like Delhi, Himachal Pradesh, Punjab, Haryana, Jammu & Kashmir, Uttar Pradesh, Rajasthan, Uttarakhand, Bihar, Madhya Pradesh, Himachal Pradesh, Nepal, etc.

Contact Us
Correspondence Address : F 22-23, Site C, Surajpur Industrial Area, UPSIDC, Greater Noida, Uttar Pradesh, 201308, India
Phone :+918037304129